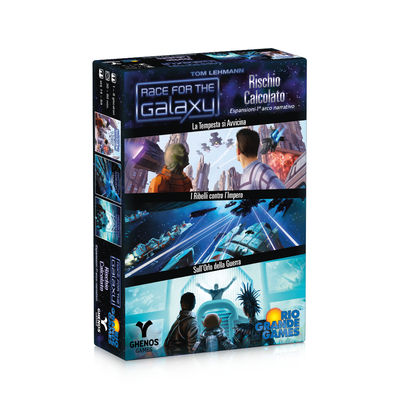 Race for the Galaxy: Rischio Calcolato
€44.89
---
Product Information
| | |
| --- | --- |
| UPC | GHE214 |
| Product Type | Gioco da Tavolo |
| Min Players | 1 |
| Max Players | 6 |
| Language | Italiano |
| Age | 12+ |
| Ean | 8033609532148 |
| Duration | 30 |
| Autor | Thomas Lehmann |
| Brand | Ghenos Games |
| Number of reviews | 0 |
Product Description
Race for the Galaxy: Rischio Calcolato è un'espansione per il Gioco da Tavolo Race for the Galaxy completamente in Italiano.
Dopo l'espansione verso lo spazio, gli imperi entrano in contatto con misteriosi artefatti alieni e con razze divenute senzienti eoni fa. Con la loro politica, le fazioni allineate all'impero spingono gli altri pianeti ad abbracciare la causa ribelle e l'intera galassia è sull'orlo della guerra.
Riuscirai a costruire l'impero galattico più prospero in questi tempi difficili?
Rischio Calcolato racchiude in un'unica scatola le 3 espansioni pubblicate in precedenza, La Tempesta si Avvicina, I Ribelli contro l'Impero e Sull'Orlo della Guerra.
Contenuto
165 carte (11 pianeti iniziali, 104 carte da gioco, 18 carte azione, 6 carte prestigio/ricerca, 22 carte personalizzabili e 4 carte con indicazioni) 63,5x88mm
16 segnalini PV
20 tessere obiettivo
10 segnalini PV obiettivo
1 tessera Maggioranza Prestigio
1 plancia ricerca
30 segnalini prestigio
1 disco annessione
6 tracciati militari
24 cubi militari
16 segnalini militari
1 plancia gioco in solitaria
2 dadi speciali
21 tessere/segnalini
regolamento in solitaria
Carte e Bustine Protettive:
156 carte - misura 63,5x88
Descrizione BGG:
As empires expand into space, they encounter mysterious alien artifacts and races uplifted to sentience eons ago. Meanwhile, Imperium factions provoke other worlds to ally and rebel as the galaxy drifts towards war.
Can you build the most prosperous space empire in these challenging times?
Expansion and Brinkmanship bundles 3 previously published expansions, The Gathering Storm, Rebel vs Imperium, and The Brink of War into a single product, compatible with 2nd Edition Race for the Galaxy.
Customer Reviews
This product does not have any reviews yet.
Recommended items