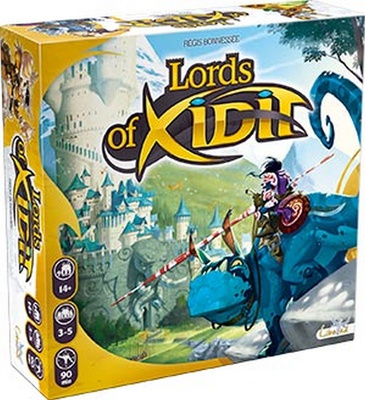 LORD OF XIDIT Gioco da Tavolo
€54.89
---
Product Information
| | |
| --- | --- |
| UPC | AST8650 |
| Product Type | Gioco da Tavolo |
| Min Players | 3 |
| Max Players | 5 |
| Language | Italiano |
| Age | 14+ |
| Duration | 90 |
| Autor | Régis Bonnessée |
| Ean | 3558380025320 |
| Brand | Asterion - Asmodee |
| Number of reviews | 0 |
Product Description
L'Oscuro Flagello è risorto e ha corrotto i cuori e le menti delle creature di tutte le terre. Colpite da una misteriosa malattia, si rivoltano contro l'umanità e attaccano le città umane. L'ultima speranza che resta per restaurare la pace a Xidit è rappresentata dai nobili eredi del Regno, gli Idrakys.
Lords of Xidit è un gioco che prevede la programmazione simultanea dei turni e in cui dovrete pianificare le vostre azioni e anticipare quelle dei vostri avversari. La tensione cresce fino a giungere al culmine alla fine della partita, grazie a un originale sistema di eliminazione basato sui punteggi che non vi consentirà di abbassare mai la guardia!
Nei panni di uno dei cinque Idrakys, il vostro compito sarà viaggiare per il Regno, reclutare coraggiosi soldati e riconquistare le città minacciate. La vostra audacia sarà ricompensata! Accumulate ricchezze, inviate i Bardi a cantare le vostre lodi in tutta la terra e costruite le Gilde degli Stregoni per guadagnarvi il rispetto della comunità magica. Combattete, Idrakys, e forgiate la vostra leggenda!
Customer Reviews
This product does not have any reviews yet.