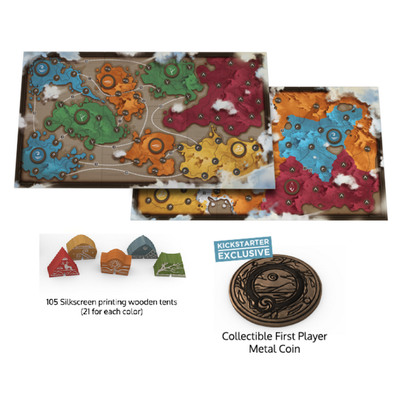 Iwari: Upgrade Kit
€14.89
---
Product Information
| | |
| --- | --- |
| UPC | GOG1904-IWMaps |
| Product Type | Gioco da Tavolo |
| Min Players | 2 |
| Max Players | 5 |
| Age | 14+ |
| Duration | 45 |
| Autor | Michael Schacht |
| Ean | 602573705353 |
| Brand | Gate On Games |
| Number of reviews | 0 |
Product Description
Iwari: Upgrade Kit è un'espansione per il Gioco da Tavolo Iwari completamente in Italiano.
Questo Upgrade Kit contiene il materiale esclusivo distribuito con il pledge base durante il progetto KS. All'interno sono presenti: la mappa a doppia faccia per gli scenari "The Floating Lands" e "Glacial Mass", la moneta esclusiva in metallo per il primo giocatore e le tende con la grafica stampata in silkscreen.
Questo Kit comprende
- 1 Tabellone fronte retro con 2 nuove mappe:
The Floating Lands
The Glaciers
- 105 Tendine in legno serigrafate (21 per ciascuno dei 5 colori)
- 1 Moneta Metallica che funge da segnalino per il primo giocatore
Customer Reviews
This product does not have any reviews yet.
Recommended items