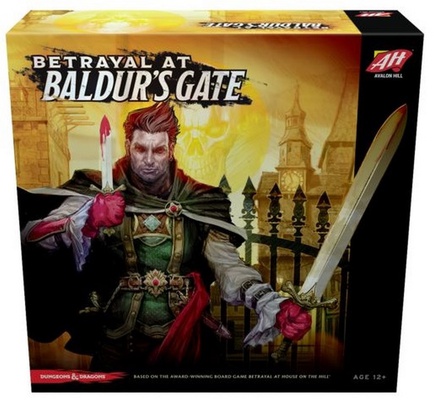 BETRAYAL AT BALDURS GATE Gioco da Tavolo
€49.89
---
Product Information
| | |
| --- | --- |
| Product Type | Gioco da Tavolo |
| Min Players | 3 |
| Max Players | 6 |
| Language | Inglese |
| Age | 12+ |
| Duration | 60 |
| Autor | Chris Dupuis |
| Ean | 63050964329 |
| Brand | Hasbro |
| Number of reviews | 0 |
Product Description
Betrayal at Baldur's Gate è la rivisitazione di Betrayal at the House on the Hill in chiave fantasy, basata sul mondo di Dungeons & Dragons.
L'ombra di Bhaal è arrivata a Baldur's Gate, portando con sé dall'oscurità mostri e molti altri orrori!
Dovrai costruire ed esplorare le catacombe ed i vicoli più bui di questa città cooperando con i tuoi compagni avventurieri per sopravvivere ai terrori che vi si pareranno davanti. Sarà così sino a quando un male oscuro porterà uno o più avventurieri a combattere tra di loro.
Sarà stato il colpo psionico del mindflayer o i sussurri di un fantasma disperato che ha trasformato i tuoi alleati in traditori? Non hai altra scelta che tenerti vicino i tuoi nemici!
Customer Reviews
This product does not have any reviews yet.