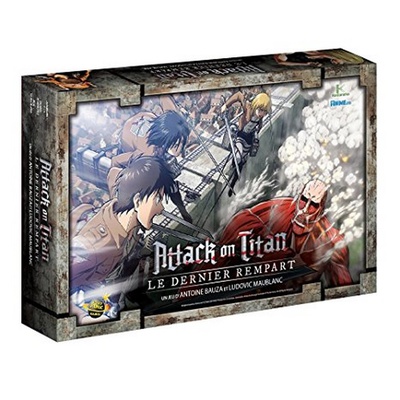 Attack on Titan - L'Ultima Resistenza
€44.89
---
Product Information
| | |
| --- | --- |
| Product Type | Gioco da Tavolo |
| Min Players | 2 |
| Max Players | 5 |
| Language | Italiano |
| Age | 14+ |
| Duration | 30 |
| Ean | 3663411300021 |
| Brand | Cosmic Games |
| Number of reviews | 0 |
Product Description
Attack on Titan: The Last Stand è un gioco in cui uno di voi vestirà gli scomodi panni di uno dei giganti della serie di manga di enorme successo de L'Attacco dei Giganti nell'intento di divorare il maggior numero possibile di membri dell'Armata Ricognitiva. Gli altri giocatori, nella veste dei protagonisti del fumetto, dovranno collaborare in modo da uccidere il grottesco gigante.
Il giocatore che interpreta il gigante sceglierà ogni turno due attacchi da effettuare, uno dei due verrà mostrato al resto dei giocatori, mentre l'altro rimarrà segreto. Il giocatori dell'Armata Ricognitiva dovranno utilizzare il risultato dei loro dadi per evitare entrambi gli attacchi ed indebolire il gigante, in modo da poter assestare un colpo mortale.
Utilizzate i molti elementi verticali, come le mura o il gigante stesso, per migliorare le vostre possibilità di eludere ed al contempo posizionarvi al meglio per sferrare l'attacco decisivo!
Customer Reviews
This product does not have any reviews yet.