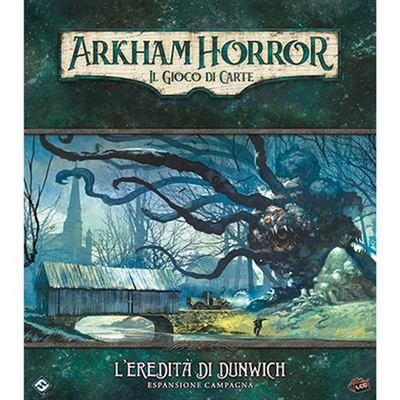 Arkham Horror LCG - Revised: L'Eredità di Dunwich - Campagna
€64.89
---
Product Information
| | |
| --- | --- |
| UPC | ASM9673 |
| Product Type | Gioco da Tavolo |
| Min Players | 1 |
| Max Players | 4 |
| Language | Italiano |
| Age | 14+ |
| Ean | 3558380094692 |
| Duration | 90 |
| Autor | Nate French |
| Brand | Asterion - Asmodee |
| Number of reviews | 0 |
Product Description
Arkham Horror LCG - Revised: L'Eredità di Dunwich - Campagna è un'espansione per il Gioco da Arkham Horror LCG - Revised Core Set completamente in Italiano.
Tempo fa, una presenza mostruosa terrorizzava l'isolato villaggio di Dunwich. La stagione dell'orrore si concluse solo dopo che tre professori della Miskatonic University - il dottor Henry Armitage, il dottor Francis Morgan e il professor Warren Rice - si recarono a Dunwich armati di una conoscenza segreta che permise loro di sconfiggere la creatura.
Ora, alcuni mesi dopo, i colleghi del dottor Armitage sono scomparsi e lui teme il peggio.

Nell'espansione campagna L'Eredità di Dunwich, da uno a quattro investigatori partiranno alla ricerca dei professori scomparsi, avventurandosi in una campagna di otto scenari che li porterà dal famigerato Clover Club e dalla prestigiosa Miskatonic University fino alla decrepita e infida Dunwich.

Questa espansione include tutte le carte scenario originariamente presenti nel ciclo L'Eredità di Dunwich, riorganizzate in una sola scatola.
Carte e Bustine Protettive:

    307 carte - misura 63,5x88
Descrizione BGG:
A repackaging of the Dunwich Legacy cycle. All of the player cards for the cycle can be found in the Dunwich Legacy Investigator Expansion while all the encounter cards and campaign cards can be found in the Dunwich Legacy Campaign Expansion.
—user summary
The Dunwich Legacy is a deluxe expansion for Arkham Horror: The Card Game.
Several months ago, three Miskatonic University professors armed themselves with secret knowledge, traveled to Dunwich, and brought an end to the strange and terrifying creature that had been terrorizing the secluded village. Their heroic efforts brought peace to the region—for a while—but also left the men scarred by the horrors they had witnessed. Now, one of those professors, Dr. Armitage, has need of your assistance. His colleagues have gone missing, and he fears the worst…
The Dunwich Legacy challenges you to find the missing professors and launches you into a campaign that leads to Miskatonic University, the notorious Clover Club, and beyond. Five new investigators arrive to offer their services, armed with fifty-nine new player cards (including a complete playset of each) that allow you to pursue new deck-building strategies and new styles of play. Finally, you'll find all manner of new terrors arrayed against you—from backroom thugs and bad luck to arcane hexes and wholly unnatural abominations.
Customer Reviews
This product does not have any reviews yet.
Recommended items